SUPER POSITIVE REVIEWS about Crockett's lecture on how to heal trauma and the brain:
VIDEO IS AT THE BOTTOM
Video title: Trauma as a Lack of Brain Integration between the Left and Right Hemisphere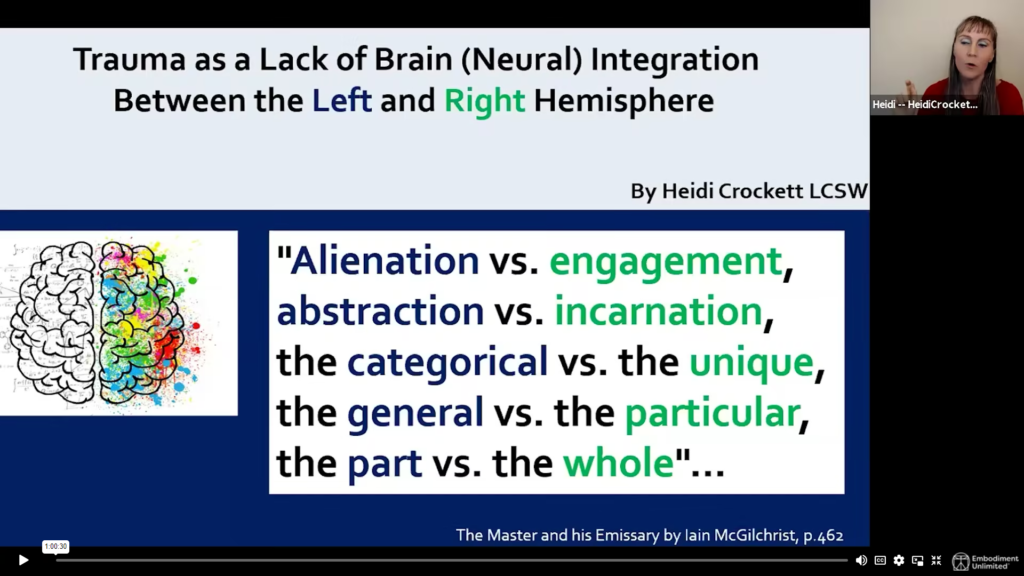 Video description: This class will explore how emotionally intense moments of trauma register in the brain, then endure as dissociation and lack of integration. When communication was emotionally empty or terrifying, your mind "turned out the lights" and froze the flow of information preventing certain key regions from integrating. We'll cover what happens in a traumatized brain and what actions bring restoration and hope.
————————————————————————-
**original video is posted in the embodiment conference library and I offer it free to those who request because I consider the information vital to share.
(Email HeidiCrocke[email protected] for the code for the lecture and the BONUS Q&A)
REVIEWS:
1. I've watched your presentation at the embodiment conference.:
– A huge thank you for what you do and the good that you bring to others.
– I've watched some 50 presentations so far. All are good but yours has been so far the best.
2. Hi, I wanted to say i really enjoyed your lecture. it was one of the best ones i've seen, and i've seen a lot of them. right hemisphere enjoyed your intonation, rhythm, etc. the lecture also taught me new things or enhanced things i already know as a trauma therapist.
3. What a thrill to have been able to hear you articulate and explain science of the brain so understandably.
4. Thank you for such an informative TEC talk. I have always had difficulty with the scientific and technical stuff but you made it easy to understand.
5. I am just coming back from your lecture on the Embodiment Conference. Wow it was sooo interesting!!!
6. "Simply masterful. Wow … really wow !! By far the best presentation I have seen so far. I have learned more in 1 hour than in weeks of studying trauma. Fantastic." LC
7. Thank you for your lovely zoom presentation this evening. So much ground was covered!
8. My Goodness…. Thank you for your knowledge and emotional intelligence!
9. Thank you for an exciting talk! I just watched your talk on the embodiment conference. Really interesting stuff!
10. Your presentation was amazing. I loved your slide on the 'threat, drive and soothing systems'. That slide was really useful for me to see that I have a weak soothing system and I need to focus on strengthening it. Thank you so much.
11. Thank you so much for your amazing presentation at the Embodiment Conference
12. Thank you for the wonderful presentation.
13. For me it was also the best presentation! Packed with information yet so easy to understand! So grateful I had the chance to see it! Thank you!
14. The hour was simply too short to share the tremendous knowledge you have.
15. Just seen your presentation on The Embodiment Conference and found it so interesting and informative, thank you so much!
16. I really enjoyed your presentation at the conference.
17. I really appreciate your lecture at the conference, it was excellent.
18. Heidi , your consciousness of serving and educating is inspirational and heart warming – as I witnessed your presentation in the Embodiment conference . Thank you so much . Well done
19. I was wide awake for your hour which came up for me at 6am. It fascinated me all the way and I enjoyed how you communicated through practical examples linked to the science of the brain. Thank you so much, Heidi, for your enthusiasm and in-depth knowledge – you are high on my list of conference favourites.
20. I just listened to your embodiment conference talk and I was blown away! It was AMAZING!!! I've listened to A LOT of them now but yours was the first that I didn't want to end.
21. Brilliant presentation At embodied conference
22. I just watched your presentation at the Embodiment Conference. It was wonderful thank you!!!
23. You are brilliant! I just watched your talk. It was packed with knowledge, fueled by passion to make a difference, and plainly inspiring and illuminating!
24. I attended your webinar within the Embodiment online event. Thank you very much for the consistent and useful information :). It was one of my favourite presentations.
25. What a wonderful presentation.
26. I attended the embodiment conference. Thanks for your fruitful sharing.
27. Hello Heidi! WOW WOW WOW Thank you for your work. You're presentation at the EC was so informative, relevant and close to home for me
28. I wanted to reach out and thank you for the presentation you gave during
the embodiment conference which I thoroughly enjoyed and watched twice
already. Your enthusiasm and expression of the material has been really
inspiring and I've already been incorporating a
visual/meditative/breathwork into my daily practice based on what you
shared (blowing kindness into the corpus callosum). Just yesterday when
I was out walking and doing this meditation, I had a very fruitful,
grieving release…
27. Thank you very much for your excellent and inspiring talk for The Embodiment Conference
28. Wow I just watched your presentation on replay at the Embodiment Conference, that was mind-blowing, but too quick, omg i need to know more
29. Thank you so much for your presentation! So informative and helpful! Dan Siegel is one of my favorite people to follow!
30. LOVED your talk at embodiment conference. Thank you soo much for your passion clarity and understanding on the integration between Left Right hemisphere, especially where there has been trauma.
31. I have just watched your webinar about the left and right hemisphere of the brain.
I was wowed. You showed so much passion and knowledge.
32.Your presentation at the Embodiment Conference was so fabulous.
33. I just watched your presentation and enjoyed it very much! That was heroic! To squeeze all that info in 45min!
There are dozens more of reviews like this, I just picked some of them….
FREE FOR A LIMITED TIME:
OFFICIAL LECTURE–(Start at minute 4) click here to read the

official description

or you can
watch starting at minute 37 for a 5 minute version

):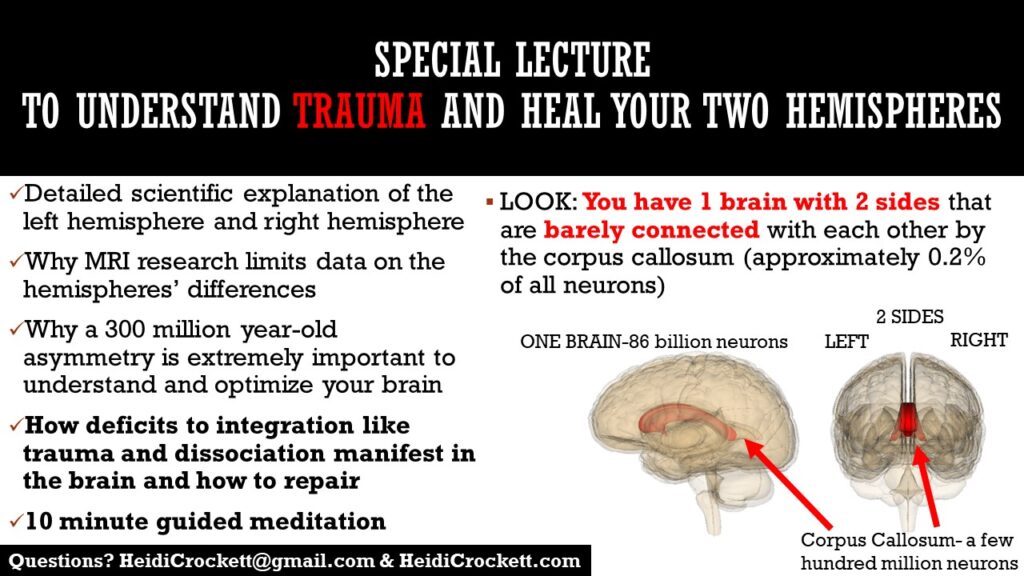 OFFICIAL Q & A
Email Heid[email protected] to get access to the talk and free Q & A