6th Domain State Integration
This class is divided into Part 1 and Part 2. NEW: BONUS Part 3 Science Chat–see timestamps below the video for further explanation:
———————————————————–
In Part 1, Crockett uses erotic, affiliate, and romantic love states to teach State Integration. Email her at HeidiCrockett at gmail.com to purchase nearly 4 hours of teaching material.
———————————————————–
Here is a preview to Part 1
The above preview is from the end of the class on

Narrative Integration

(5th Domain). It introduces the idea of playing with states and how positive states can be cultivated to help a person heal. In the

narrative class

she shares her narrative why she fell in-love with neurobiology, (it has to do with the meeting of science and spirituality). Part 2 fulfills Crockett's promise** where she said she'd show how to use positive states to heal difficult states. For a full understanding of this process, she recommends watching this 6th Domain class and the

4th Domain class on how to integrate (and release) the charge from bad memories

.
———————————————————–
**Here is a preview of Part 2 where Crockett is fulfilling her promise as mentioned above:
The above video summarizes Part 2, where Crockett walks the audience through an experience of achieving state integration (integrating a positive state and an uncomfortable state). Part 2 is based on the science of interpersonal neurobiology whereas Part 1 contains both neurobiology and sexual health information.
———————————————————–
New here? Be sure to check out the

1st

,

2nd

,

3rd

,

4th

, and

5th Domains

, as this post covers the 6th in a series on 9 Domains.
———————————————————–
ABOUT STATE INTEGRATION: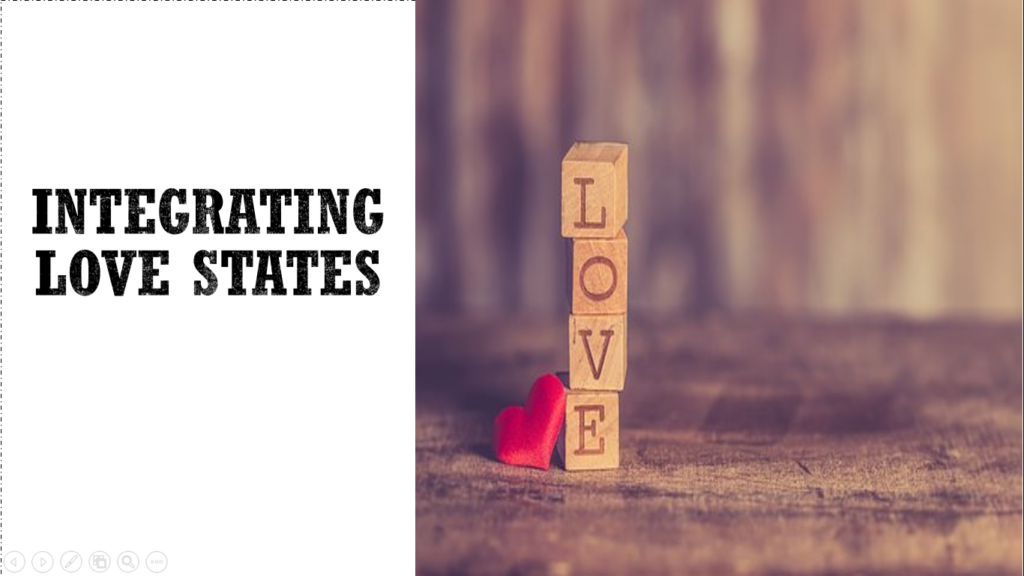 She will use the intrastate and inter-state concepts in the above preview to talk about the importance of erotic love. (And her talk will include practical tips, links, and toy ideas!)
——–
This Section is about Part 1

——-
The three types of love are
-Affiliate
-Romantic
-Erotic
———————————————————–
You can differentiate and link within a state and between states.
———————————————————–
Crockett decided to take her expertise as an AASECT-Certified Sex Therapist and create a dual purpose class. She will teach how to integrate states using neurobiology. She will also talk about strengthening erotic love vs. romantic and affiliate love for good health.
The class has dozens of tips based on cutting-edge sexual health science on how to increase erotic love.
———————————————————–
She begins the sex education part with her favorite quote:

If people don't feel safe enough to speak up and discuss what is happening sexually (including concerns or fears,) the silence prevents people with sexual difficulties from getting treatment. The silence can lead to the spreading of misinformation, STIs, etc. Crockett mentions AASECT.org as a resource to find trusted help.
———————————————————–
She discusses how for women: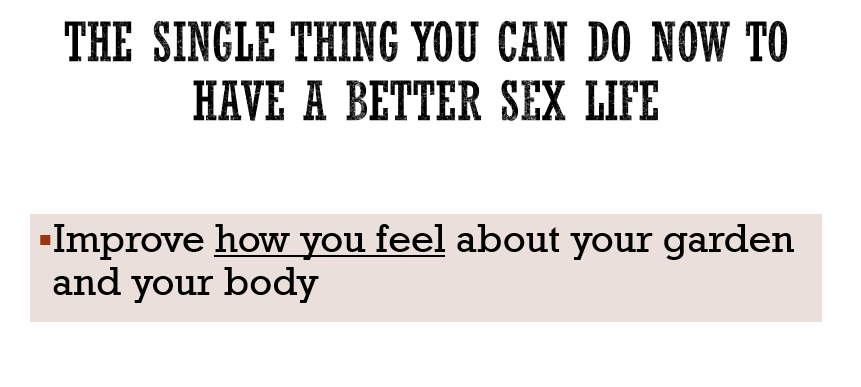 ———————————————————–
Your
garden

is a metaphor for your sexuality.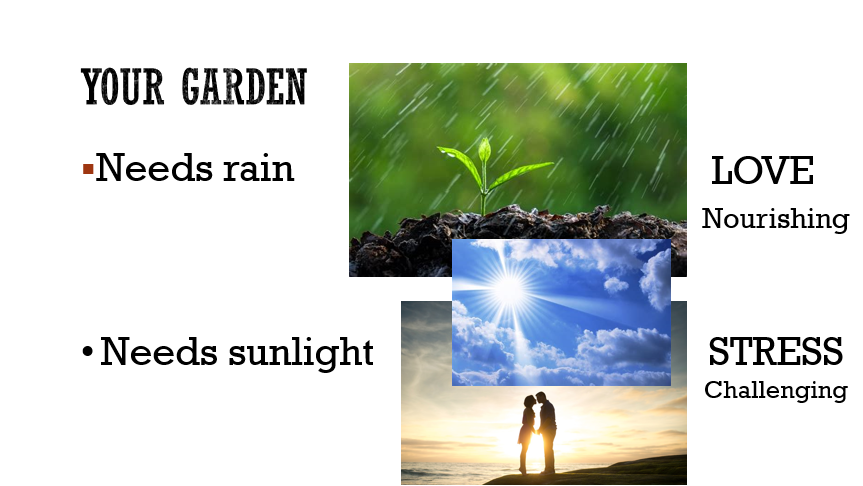 "Sunlight" and "rain" represent the
context

that made your sexuality garden what it is today.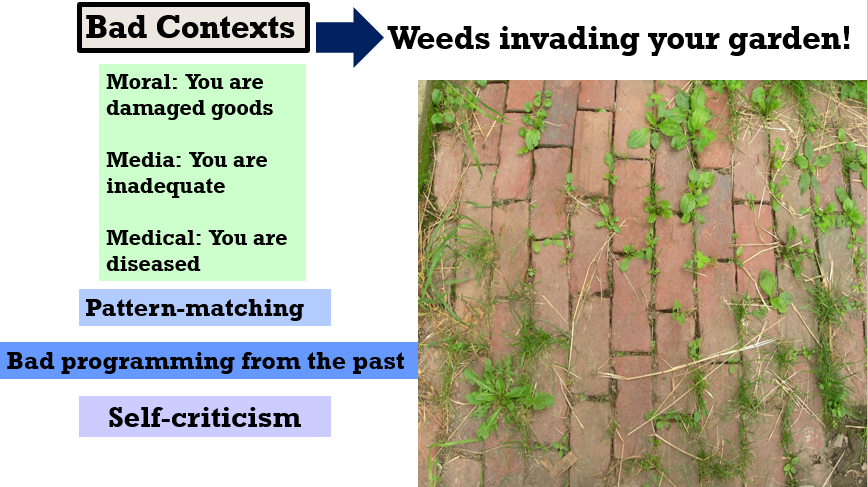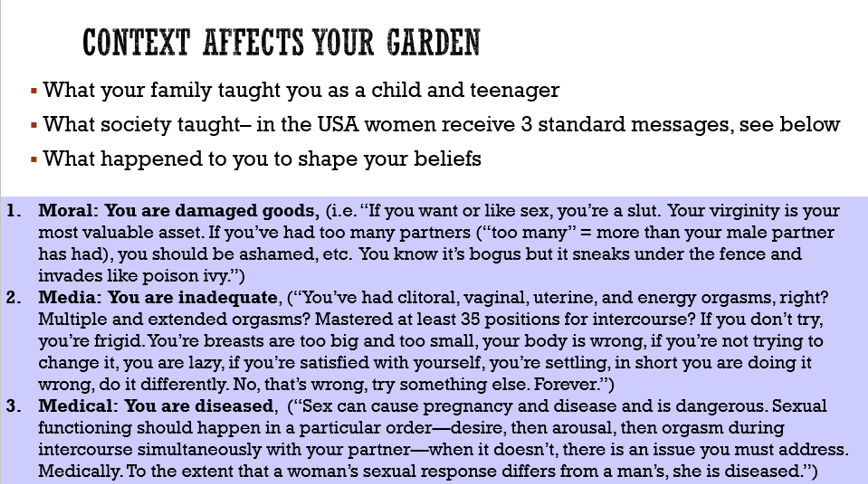 The science of neuroplasticity shows how you can change your garden.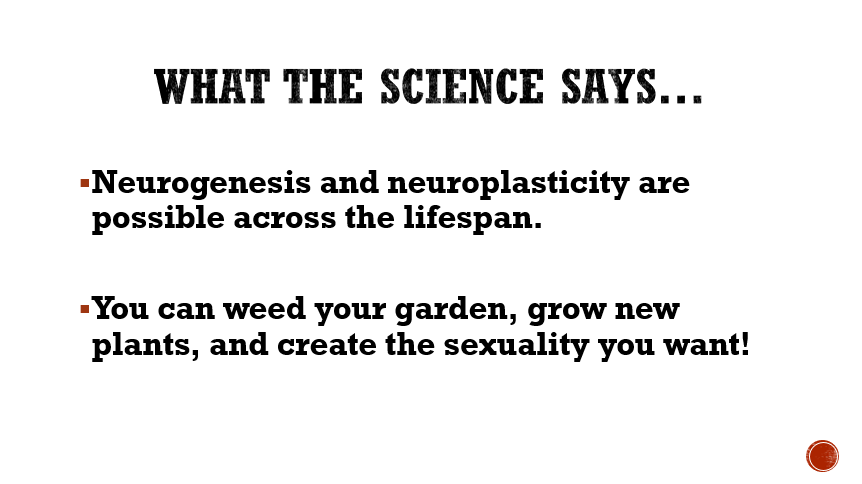 OFFICIAL Part 1 Class
1 hour 25 minutes PAID CLASS, information PACKED! To purchase email HeidiCrockett at gmail.com
——————————————————————————————————————–
For further information see her $25 class "New Findings in Sexual Health" (some of the slides came from this below link)
https://greenlightheidi.com/2019/05/paid-class-new-findings-in-sexual-health/
———————————————————–
OFFICIAL Part 2 Class
——-

SECTION ON PART 2 BELOW

——-
Part 2 was divided into the following areas for quick reference if you don't want to watch the 76 minute recording: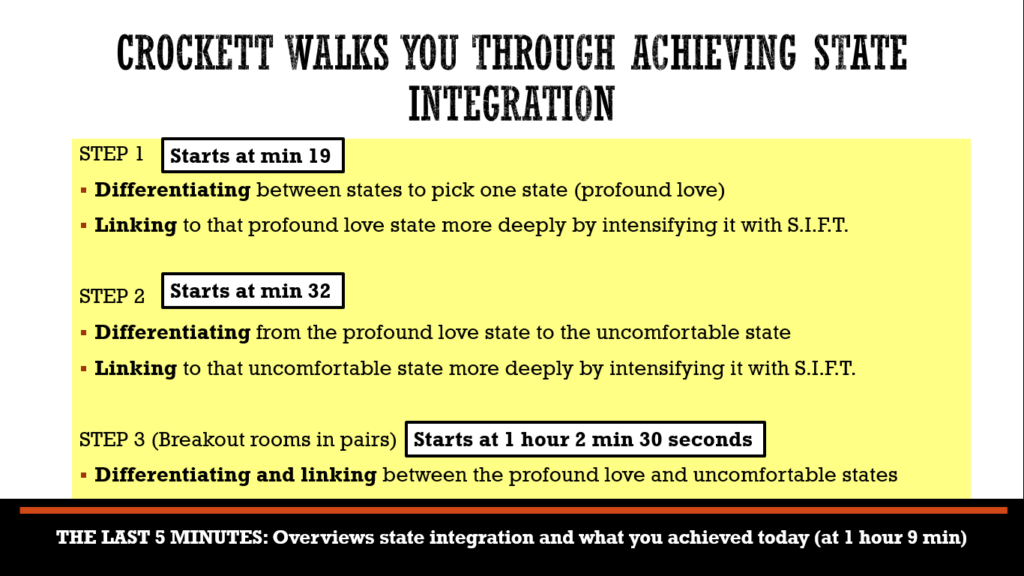 Finally, the following song (see the lyrics) is intended to prompt the listener into a deepening of love as you explore integrating love states.